An organized kitchen and pantry is the heart of the home! I love looking at other peoples kitchen organization ideas to use for my own. I've complied a list of some of the best kitchen organization ideas to update your space. Pretty and functional and help keep your kitchen organized today.
---
Shop Cute Kitchen Organization Ideas

---
1. Open Shelving With Spices
I love the idea of open shelving to display some of your kitchen items. The only challenge is keeping things in order!
These spice containers with labels look super cute and are functional.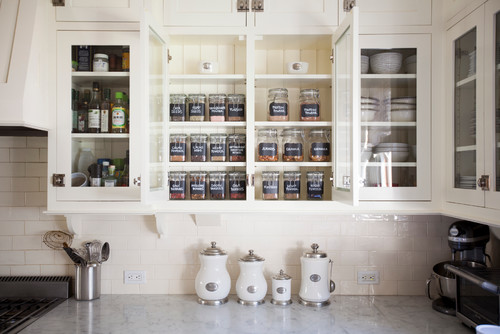 Photo by Neat Method San Diego – Discover kitchen design ideas
In This Organized Kitchen…
---
2. Beautiful Pantry With Containers
This pantry could definitely be in a magazine. It's like another room off of the kitchen! It's even got a shelf for all of your cook books.
The best part about using clear containers is that you can see what's in each of them and how much is left. The labels help too!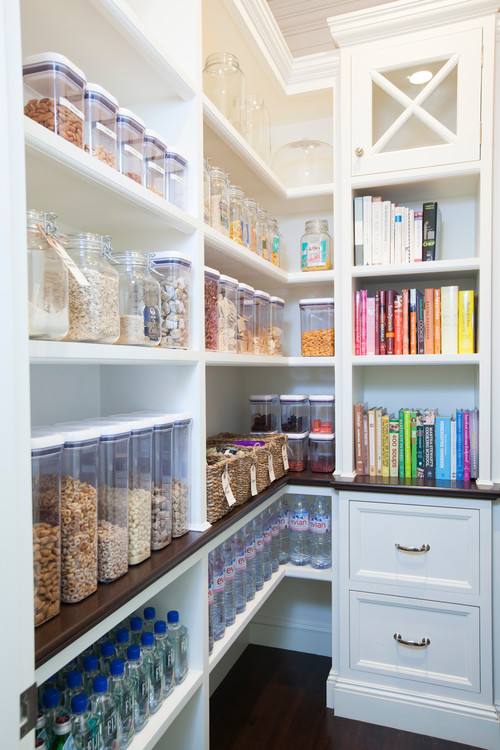 Photo by Neat Method San Diego – Look for kitchen pictures
The baskets for organization are also a nice touch. You can keep loose items in them and not have them laying all over the place!
If you're not so lucky to have a large pantry like this one, here are some small pantry organization tips.
In This Organized Pantry…
---
Adorable waterproof labels for all of your cleaners and pantry items is a must.
---
4. Floating Shelving
Built in open shelving in your kitchen is a great way to decorate but still keep your counter space.
---
You can also put functional pieces on the ceramic baking pan for dinner? It's right there on the shelf!
---
---
A hidden cabinet built in for you mop, broom, and all the cleaning products! So much better than keeping them in a cabinet under the sink or in your hallway closet.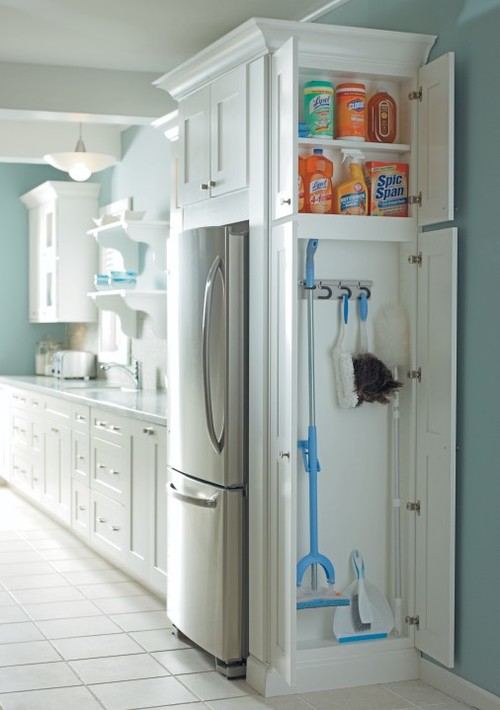 Photo by MasterBrand Cabinets, Inc. – Search kitchen design ideas
---
6. Pull Out Spice Rack
How clever! If only we all could opt in for this built in spice rack before our kitchen was built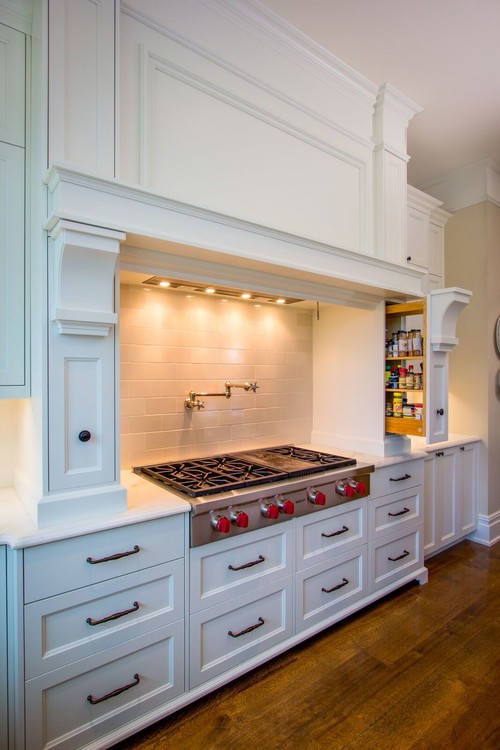 Photo by Crosstone Construction & Development, Inc. – Browse kitchen photos
---
7. Cute Dish Drying Rack
Try finding decor that is functional! Trying not to have too many decor pieces that are also functional is hard. But it's also one of the best tips to keeping your kitchen organized.
---
In This Kitchen…
---
8. Drawer Pantry Solution
Not enough room for a walk in pantry? No problem, convert one of your cabinets into a set of drawers and use it as your pantry.
Kitchen organization at its finest!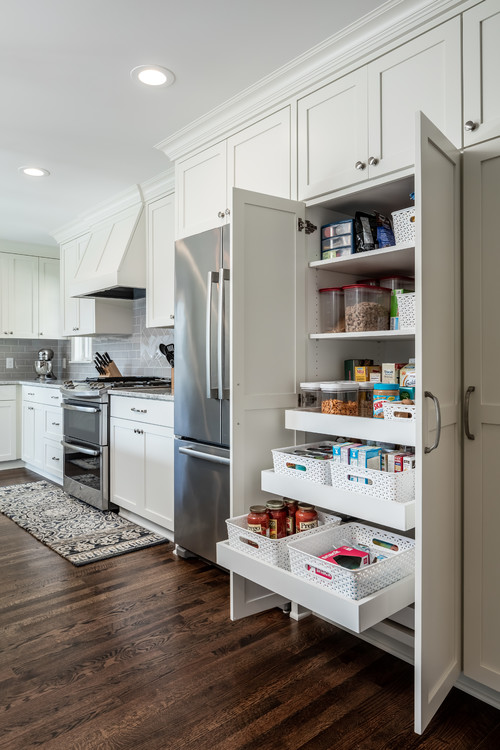 Photo by Sicora Design/Build – Search kitchen pictures
---
9. Fridge Organization Bins With Labels
Wouldn't it be nice to open your fridge and look at this??
---
10. Hang Your Pots And Pans
Leather kitchen hooks are a simple, easy and cheap way to change your interior. They will add a unique character and make the hooks a unique decorative element in your kitchen.
---
11. Simple White Organized Cabinets
---
---
What Are Your Favorite Kitchen Organization Ideas?? Leave us a comment below!