White Christmas tree theme, blue Christmas tree theme, or a silver Christmas tree theme? Is it time to put up you Christmas tree in your beach house this year? I know I can't wait to decorate my tree with all the fun white and blue and silver coastal accents. I'm starting to get some ideas for how I want my tree to look this year and wanted to share some of the best white and blue coastal Christmas trees in this post!
Shades of blues, greens, and white are a staple to coastal decorating. Incorporate your beachy style into your holiday decorating this year and change things up from the traditional Christmas tree.
---
Shop For Your Coastal Christmas Tree



---
It does feel a little weird at first getting a tree that is not the traditional pine green. But over the years of living in Florida, the coastal style Christmas tree has really grown on me. Especially since the red and green color scheme doesn't really mesh well with my coastal chic home design!
---
Now, let's see some beautiful coastal white and blue Christmas trees for some inspiration!
---
Sand&Sisal is one of my favorite coastal blogs to go to for inspiration! Kim's designs and decorating style is soooo beautiful. It's clean, elegant, and beachy! I don't know Kim personally but I'm definitely a fan of her work.
Flocked, Burlap, Seafoam
Here is her classic coastal Christmas tree in a bedroom. It's gorgeous and this isn't even the main tree in her home! I love the flocked tree for coastal style Christmas. It leaves a bit of the pine color but brings the white to life by looking like some snow.
This tree is pretty simple and elegant. There are white starfish ornaments throughout the tree. Teal blues, burlap wrapped globe ornaments, and a few silver touches really tie this look together.
Now, if you live in south Florida like me… you won't be getting any snow!! Hey, sand is the new snow…right??
---
Navy Blue & White Glam
I love this coastal Christmas tree that brings navy blue into the color scheme. 99% of the time with coastal decor, we are already using seafoam greens and teal blues…. the navy really brings a unique look to this space.
Here we see a flocked Christmas tree, lighting that brings out almost a yellow color, navy blue ball ornaments, and tons of white accents.
---
White Tabletop Christmas Tree
A Christmas tree for the kitchen counter – what a cute idea. Some of us have multiple trees throughout our house but I love the idea of a simple one on your kitchen countertop. There are many ways to decorate your Christmas kitchen and this is an easy one.
This mini flocked white tree can be a perfect holiday accent piece in any room. The color is perfect for your coastal theme but also can be decorated to fit any style.
Turquoise Walls & Turquoise Christmas Tree Accents
From the Turquoise Home! Turquoise is one of the most soothing colors. I love the compliment of the wall colors against this flocked Christmas tree. There are natural wood accents like the driftwood star tree topper!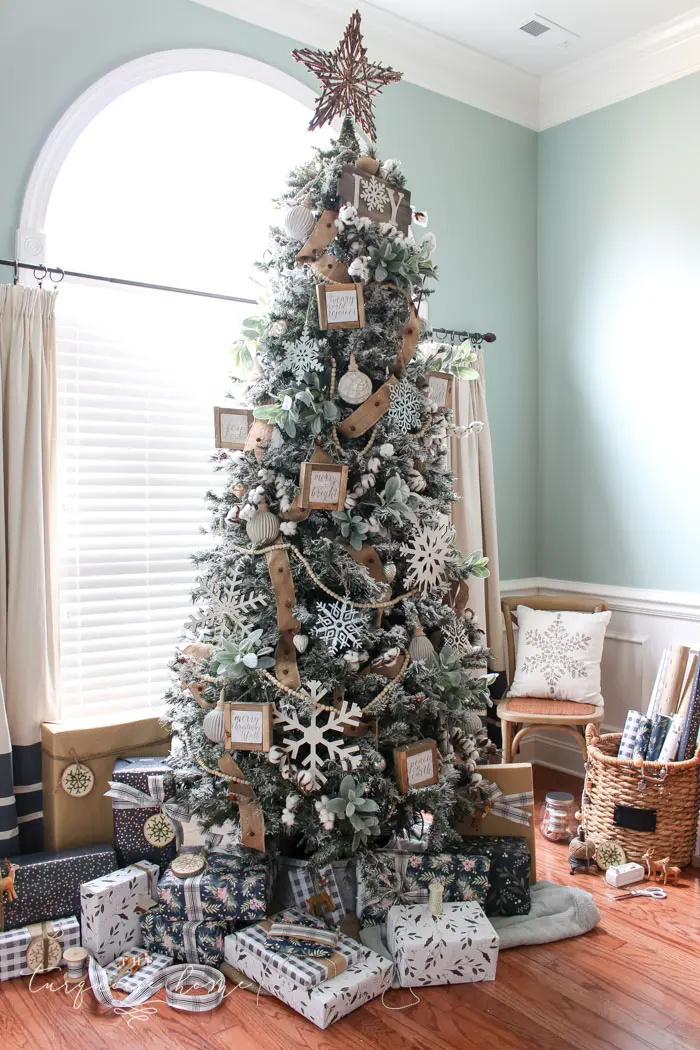 Natural wood tones and turquoise go so well together. It's a great color pallet for your coastal Christmas vibe.
---
Let It Snow (or not!) White Tree
White Christmas Tree with blue, seafoam, turquoise, and silver accents. It's a very bright and cheery feel, especially with the silver star topper!
---
Fluffy, Crisp, and Calm
A beautiful tree by Craftburry Bush. She uses dusters to fluff up her tree! Instead of getting a flocked tree, there is a little secret she talks about using dusters to decorate the tree!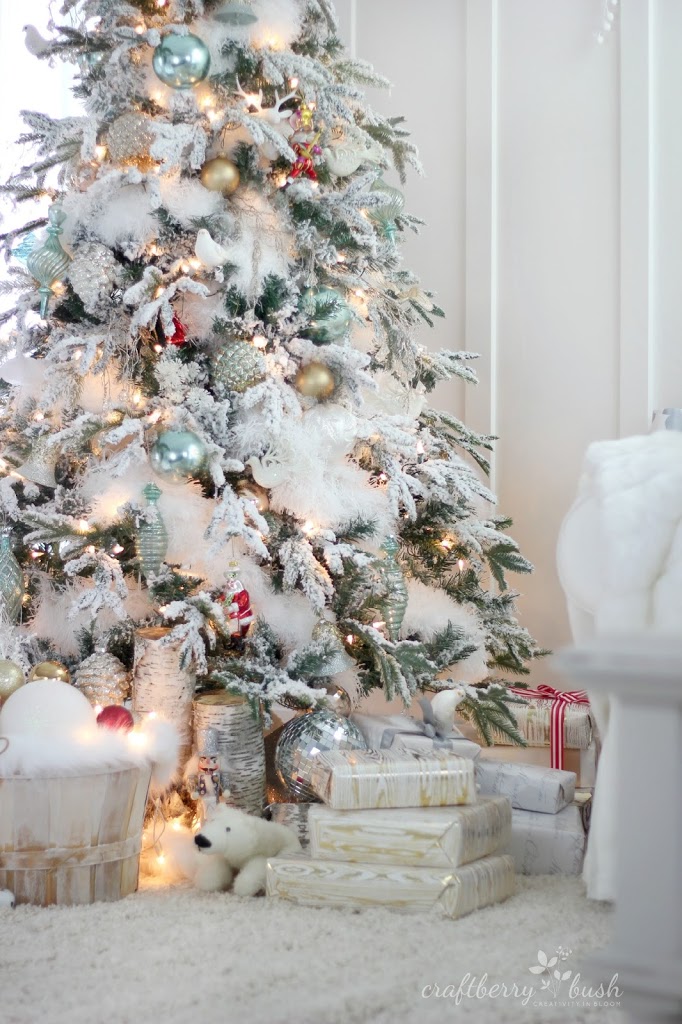 ---
Blue Bows Galore!
The tranquil gray and blue decor blend in this living room goes perfectly with this Christmas tree design. Baby blue bows are scattered throughout this tree to bring a soothing coastal feel.
---
A Non-Flocked Pine Christmas Tree With A Beachy Vibe!
Most of the time we see a flocked or completely white Christmas tree for a coastal vibe – not this time!
I love the use of a burlap texture wrapped around the tree. It's a perfect compliment to the white starfish ornaments and turquoise balls.
---
A Dreamy Coastal White and Muted Blue
This tree is everythingggg you can imagine in this dreamy coastal living room. The entire dining room is a soft beach color scheme with whites and muted blues.
One of my favorite things on this tree is the rope type garland wrapped around! It's like the rope you find on a dock to really tie in the tree to the wicker chairs at the dining table.
---
Corner White Christmas Tree
White walls, white stockings, white pillows, and a white flocked tree!
No turquoise or teal here – they are keeping it clean a fresh with some burlap accent ornaments and pine cones on the mantle.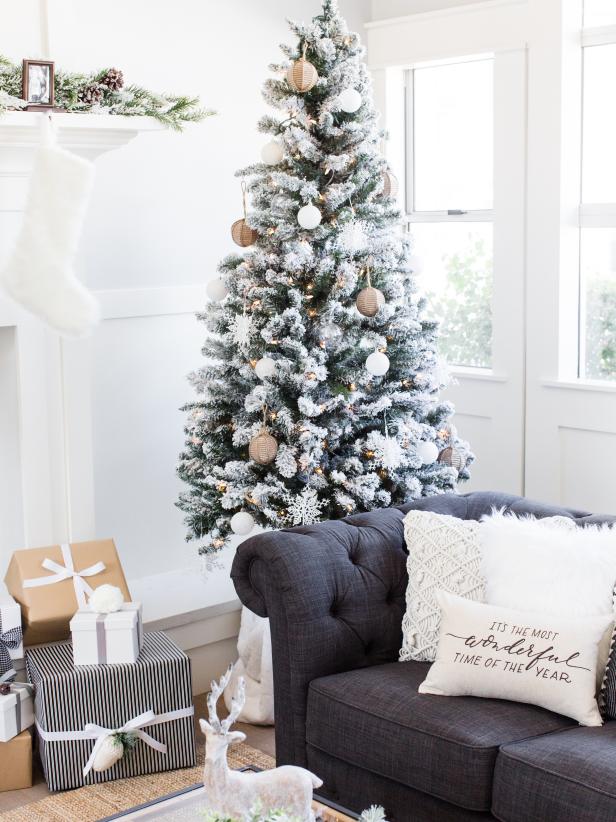 ---
Silver Shining Beauty
Lots of shinny silver here! Silver garland, silver ornaments, with a few light blue touches.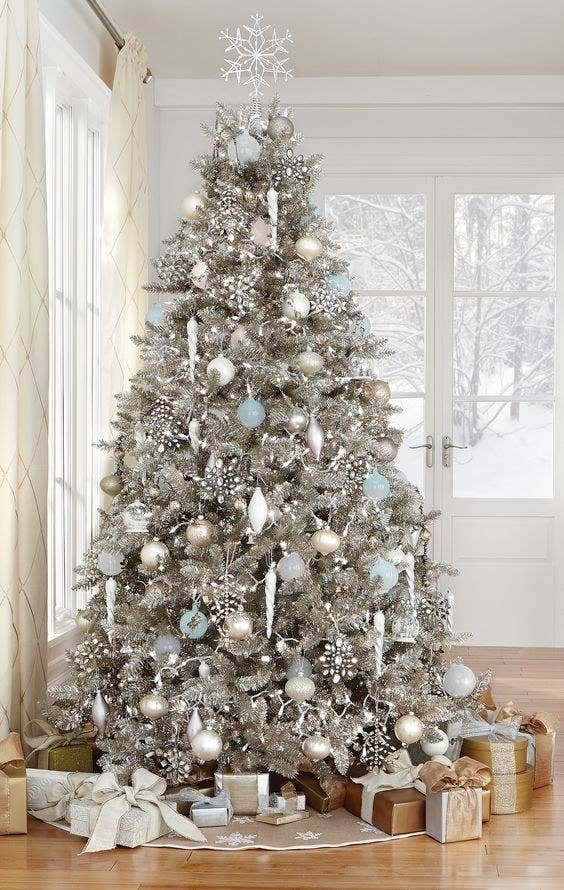 ---
Another Sand&Sisal Christmas Tree
This one is a whimsical delight! It's full of joy and coastal touches with white, turquoise balls, and glass accents.
---
Unique Patterned Black and White Garland
I love getting new ideas from other coastal decor styles – white and teal are not the only colors you have to use. The use of this black and white flannel like pattern is used for garland.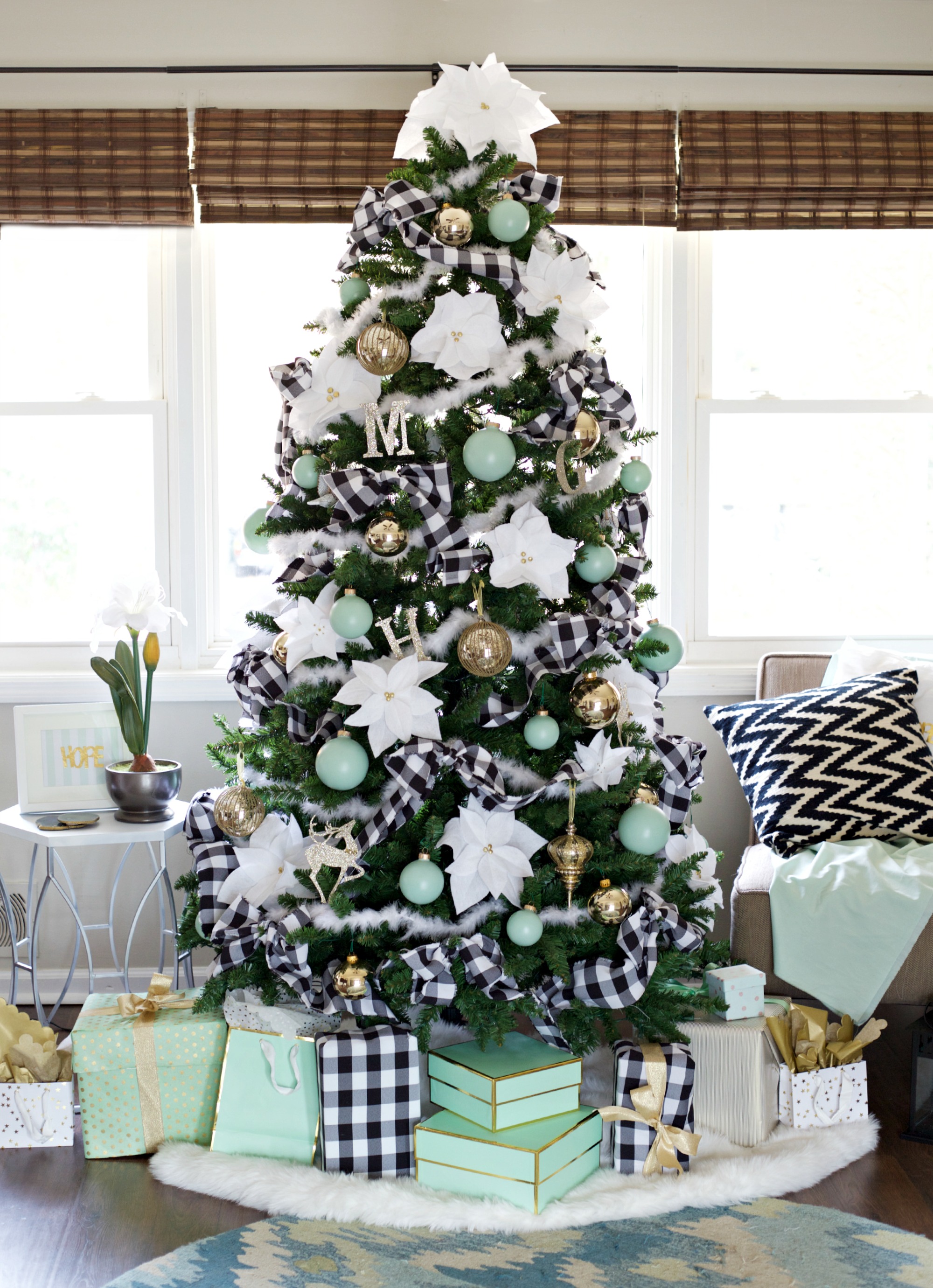 ---
Funky and White
A white tree with so many funky ornaments. This is one of those awesome trees that showcase all of those fun ornaments you've been collecting on vacation over the years.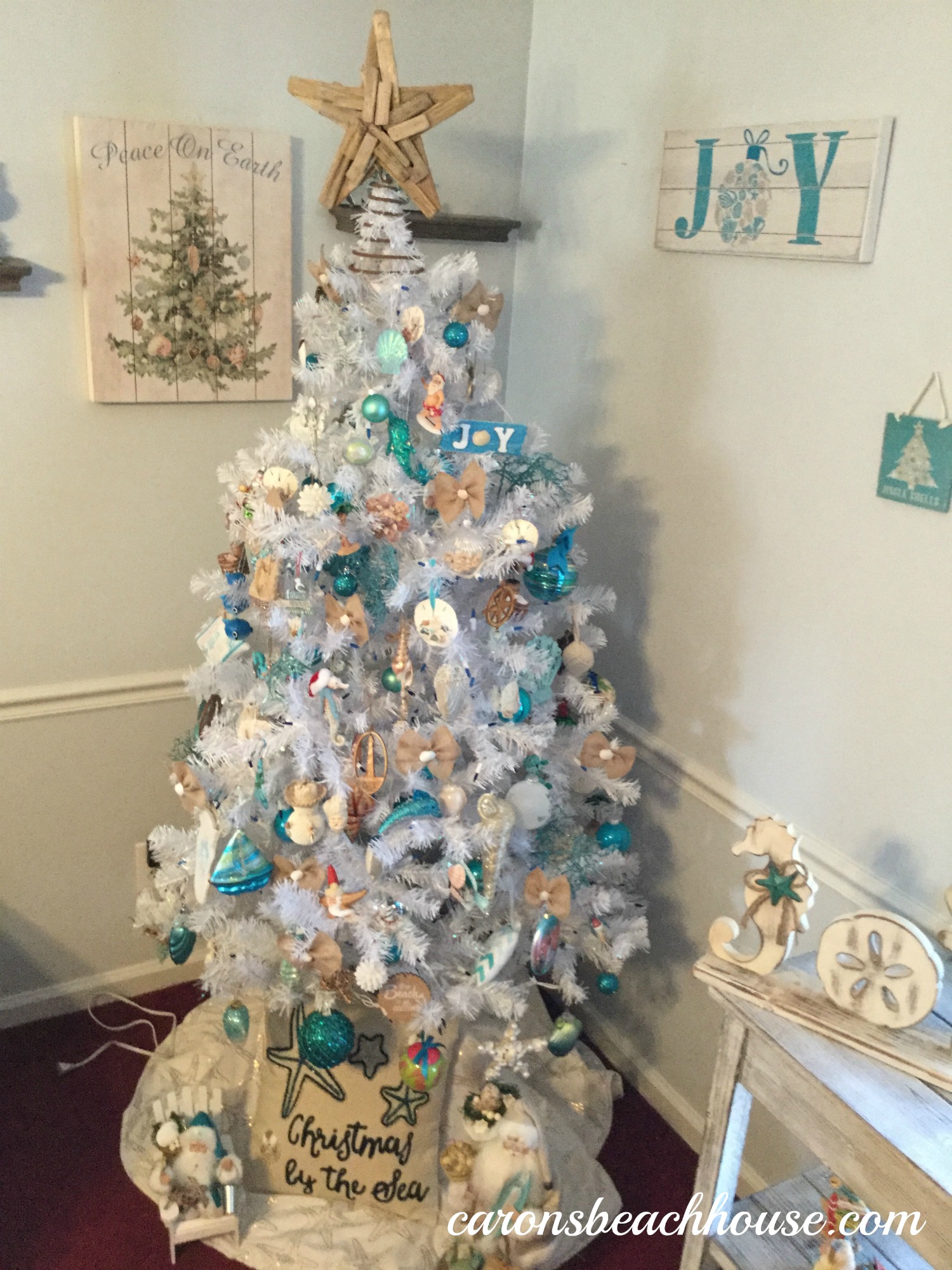 ---
Slim and Sassy
One tree by the staircase and another in the background. This one fits perfectly next to the grand staircase near the entryway. It's a slim white tree with fresh cream colored ornaments and some sassy bows.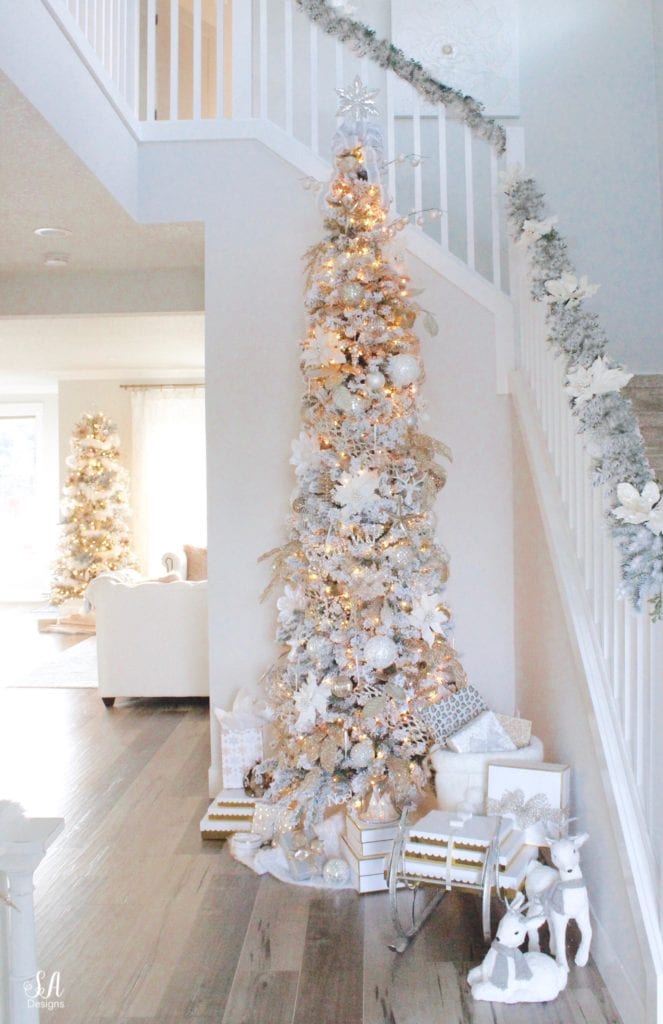 ---
---
---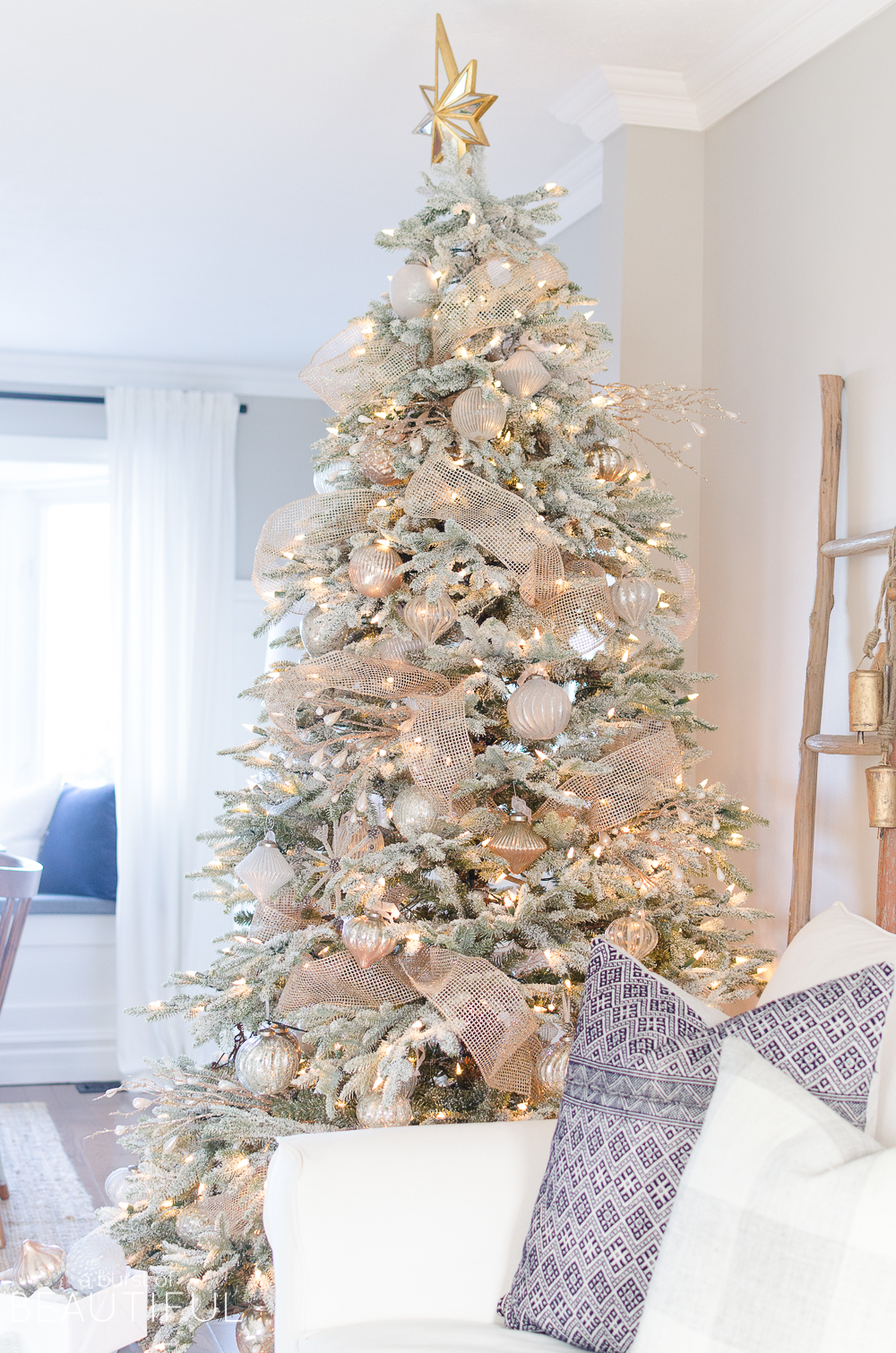 ---
I found this white and blue christmas tree on Pinterest but there was no original source so I can't seem to find who designed it – it's so pretty though!
This Christmas tree with some silver accents looks like a bouquet of flowers!
---
This white and baby blue Christmas tree looks real but it's actually a holiday photo backdrop! I'm still going to steal some ideas for decorating my own Christmas tree from this one!
---
My Own Classic Coastal Christmas Tree In My Beachy Living Room
My beach cottage living room has the perfect corner for this classical coastal Chrismtas tree. We went with a real tree… maybe next we'll a flocked white tree will be in the cards!
I don't have a mantle so I hang my cute starfish stockings with some simple stocking hangers. It's not very practical in Florida to have a fireplace so I'll have to settle without one for the holidays!
---
Coastal Chic Christmas Tree With Beach Ornaments
I love my mom's coastal chic holiday dining room which is just to the right of this beautiful coastal chic Christmas tree!
---
Do you decorate your Christmas tree with a coastal flare? Drop us a link below!