Want to get your dining room a makeover without the cost? Try investing in a coastal dining room – a great way to enjoy your meals in a cheerful ambiance. You can get reminded of the hot climate, sandy beaches, and warm waters that you can't live without. One of the easiest ways to do this is by updating to some coastal dining room chairs.
Needless to say, dining chairs are an integral part of any dining room. So, you will also have to buy some coastal dining room chairs to suit your interiors.
This post contains affiliate links. Read our full disclosure here.
However, how do you choose the right coastal dining room chair for your home?
Here is how to make the best use of your coastal dining room ideas.
TIP: Download our FREE PDF (see below) with product links to purchase all of the coastal style chairs in this post… and some of our other favorites. Simply click on the chair to be directed to the product.
---
Evaluate Your Coastal Dining Room Décor
Coastal dining rooms can come in varying flavors and tastes. They can be modern, contemporary, or even rustic, or minimalist.
As a result, it is necessary to take a look at your dining room to gauge what type of chairs you want. For example, if you have a coastal dining room with a large kitchen island, then bar stools can be your ideal choice.
For contemporary dining rooms, you can try upholstered chairs to complement the look. A classic upholstered chair from Pottery Barn is a great elegant choice.
Moreover, consider the color and theme of your coastal dining room. Next, try to find chairs that align or enhance the looks of your dining room. A beachy area rug is also the perfect way to add color and texture.
To get the beachy look… colors like white, gray, muted blues, wicker, and rattan will fit almost any coastal style.
For example, white wishbone dining chairs are a great choice for contemporary coastal dining rooms. These types of chairs can fit your beach style with the white color and wicker material.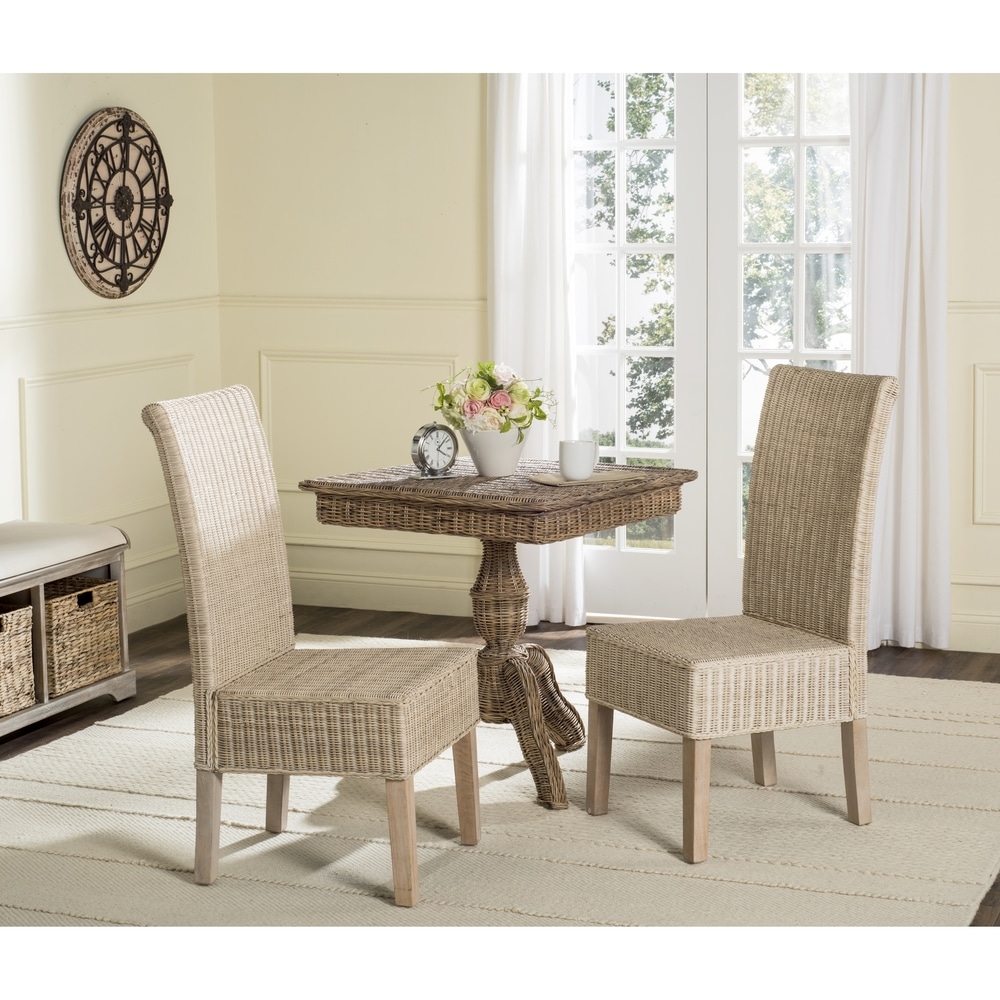 White Washed Wicker Dining Chair on Overstock
---
Get the Basics Right for your Coastal Dining Room Decor
You can find coastal dining room chairs in pretty much any shape and size you want. And you have different styles to choose from, like armless or chairs with arms, with or without backrests, padding, and so on.
First, measure the height of your dining table. Then, determine the sitting height of the chair you will need to purchase.
If you don't have a coastal dining room table yet, first buy the chairs.
Additionally, assess the space available in your coastal dining room. Your chairs should easily fit into the space without overcrowding your room.
Moreover, decide the total number of chairs you need to buy. Keep in mind, a lot of chairs online are sold as a set of 2! So, if you see chairs that are $400, you are really paying $200 each. This makes a big difference in pricing.
Tip: You can find out more about choosing the right size chair by clicking here.
---
Select the Right Material
You can find coastal dining room chairs made from different materials. One of the most popular choices is wood or even chairs made from cane.
Coastal homes look wonderful with eco-friendly furniture, so you can surely consider natural materials. However, you can also go for innovative materials like wrought iron or metal if you own a modern coastal dining room.
An important consideration while choosing the material for your chair is your location. Where you live can also have an impact on your choice of coastal dining room chairs.
For example, you can use chairs made from fabric or cane if you live in a hot climate. Consequently, you will need padded chairs or something similar to sit on if you stay in cold climates.
---
Think About Maintenance
Some coastal dining room chairs may need a bit of washing and cleaning from time to time. Additionally, some materials may be difficult to clean or take more time and effort.
Coastal dining room set like dining chairs made from wood or nature-friendly materials are easiest to clean. The same applies to chairs made from metals and alloys.
However, chairs with slipcovers or fabric may need some work to clean. Therefore, think of how much responsibility you want to take and then choose the right chair.
These gray rope and wood chairs with cushion are perfect. You can remove the top cushion and wash the entire thing!
---
Don't Miss Out on Comfort
Coastal dining rooms and homes are meant to be cozy and comfortable. So, your coastal dining room chairs should be comfortable enough to allow everyone to eat together happily.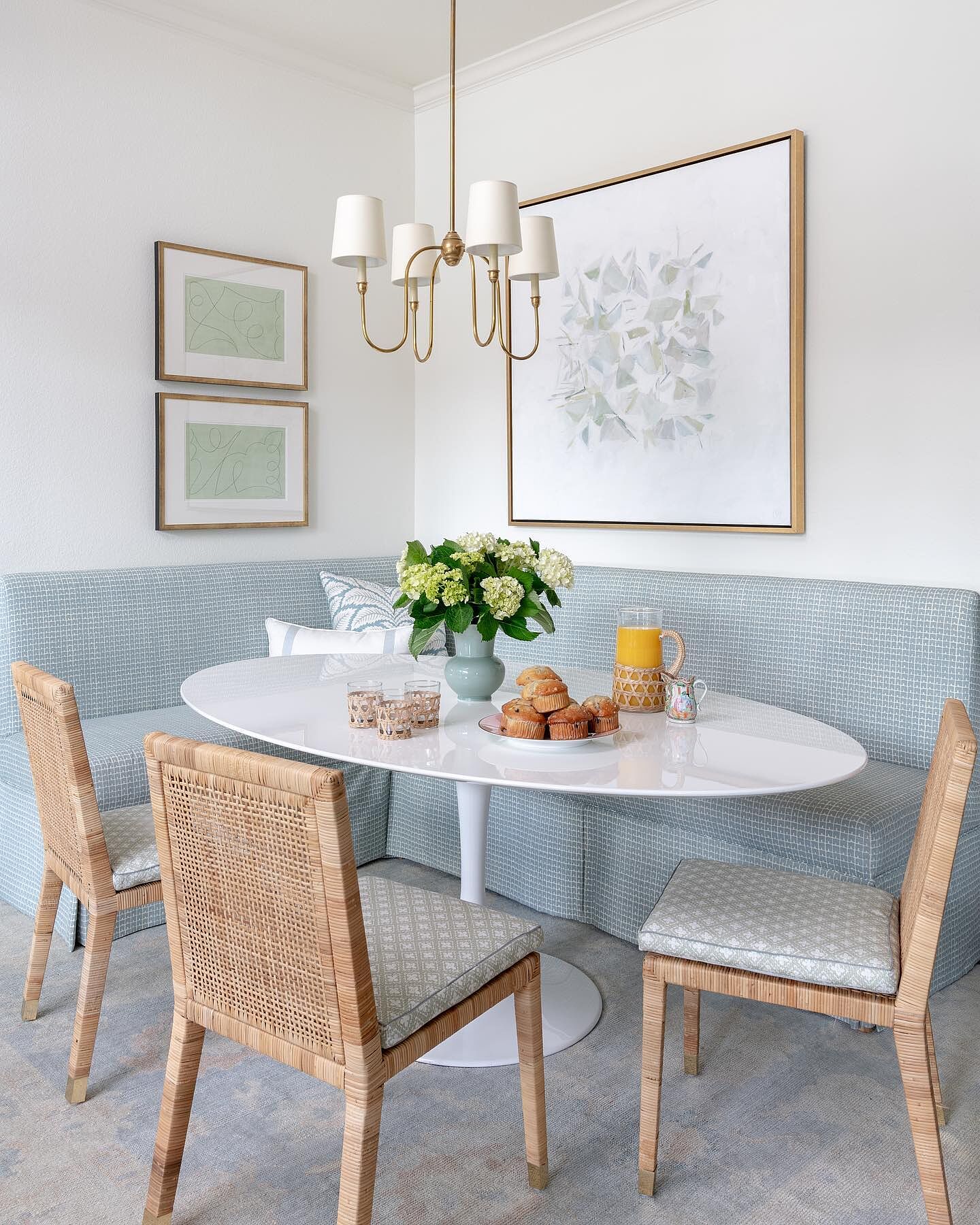 However, some chairs may compromise comfort for style or looks. You may also end up with an uncomfortable chair if you go for the cheapest price.
Therefore, make sure you buy comfortable coastal dining room chairs for your family. They should be inviting and cozy enough to make you feel like seating on them forever!
Natural Balboa Side Chair on Serena & Lily
---
Reflect on the Inhabitants of Your Home
Your choice of furniture can get impacted by the people or pets that live in your house. For example, you would avoid some materials or shapes if you have kids or babies in your home.
The same goes for pets that might chew and damage your chair or upholstery. Additionally, you should prevent buying chairs that might turn out dangerous for your pets.
So, think about the inhabitants to make the right selection.
---
Research Reviews and Ratings for your Coastal Dining Room Set
You can buy coastal dining room chairs from your local furniture store. Consequently, you may order your favorite chair from countless online stores.
However, the two processes are quite different and bring a separate set of nuances.
In a physical store, you can sit on a chair to find out if it's comfortable enough. You can also take a hard look at it and check the materials physically.
Sadly, that is not possible for online orders. Therefore, you need to do a bit of homework to ensure you are buying the right chair and not compromising quality.
The best way to ensure value for money is to read reviews left by other customers. Check specifically for negative reviews to determine if you should really spend money on the chair.
Moreover, you can visit the official website of the brand to find out more information. It will also give you an idea about the company and its reputation in the market.
However, don't go by the reviews on the company website as they are always positive to attract customers.
Most websites have a filter for customer ratings or reviews – see the photo above from Overstock.com. I like to add this to only see products that have a high rating. Most likely, I would not buy something that had lower than 4 stars.
Order from sites like Amazon, Overstock, or Wayfair. The customer reviews on these sites are very reliable and often contain photos.
Also, if it's a popular brand, you can search for reviews by experts and websites. Stay with trusted sources and avoid reviews that only encourage you to buy the product.
---
Zero in on your Coastal Dining Room Idea
If you're looking to get the most bang for your buck, we suggest taking a look at your dining room first. Choose coastal dining room chairs that match your theme and color palette. Additionally, determine the right size, style, and material for your dining room chairs. Moreover, research online to find out if the chair you are buying is actually worth the price.
---
Shop my favorite coastal dining chairs… just a click away!