Nautical decor is an awesome way to incorporate a coastal style into your home – especially in your bathroom! With navy blue as the main color for a nautical design, it's the perfect accent to your home. We're sharing some of our favorite nautical bathroom decor ideas and designs using navy blue, grays, anchor decor, rope accents, and so many other pretty things!
You can use a nautical design style in any room of your home. Go through these ideas for a nautical bathroom and get inspired! Keep scrolling to get the best nautical bathroom decor ideas.
This post contains affiliate links. Read our full disclosure here.
---
Shop For Your Nautical Bathroom Decor Here!

---
---
Navy And White Bathroom Shower
This shower with floor to ceiling glass is just beautiful. Navy blue and white bathroom tiles create a nautical and ocean feel. The tiles on the floor of the shower are an extra touch that make this shower extra luxurious.
---
Bathroom With Rope Mirror And Rope Cabinet Pulls
A nautical bathroom doesn't have to be all navy blue and white! Accents with rope are another way to create a nautical style in your space. I love the use of the round mirror with rope paired with the rope handle pulls on the vanity.
---
Navy Blue Bathroom With Whale Mirror
I found this adorable bathroom look from @popofprettyblog on instagram! She's got such a smooth and fun design vibe. A navy blue subway tile lines the entire shower and bathroom walls.
And look at that cute little whale mirror!! It really brings an ocean feel to this bathroom.
---
TIP: If you want to change up your bathroom theme without doing a major renovation – paint the walls, switch out the light fixtures, and install a new mirror!
---
Clean White With Subtle Navy Accents
The simplicity of this clean bathroom is beautiful. With white walls, a white vanity and countertops, a few pops of navy blue accents create a tranquil space.
---
Whale decor definitely plays into the nautical look. I love the little whales over the toilet and you can see part of a teal wood whale in the mirror.
---
Simple Boys Ocean Bathroom
I love this simple boys bathroom makeover by Confessionals Of A Serial DIYer. With a few simple changes, this bathroom transformed into a little boys nautical bathroom dream!
A white like-new vanity, cool ocean blue wall color, and a nautical navy blue and white striped shower curtain are the perfect pair.
---
Elegant Navy Blue And White Master Bathroom
An elegant master bathroom with a nautical theme. The walls have a beautiful ash navy blue wallpaper all the way around. The rope circular mirror creates a natural centerpiece and the white vanity is beautiful and elegant.
When it comes to nautical bathroom decor, I love the use of a rope mirror. The circular shape of this mirror also makes it feel kind of like a port hole on a ship – another great way to get a unique nautical bathroom look.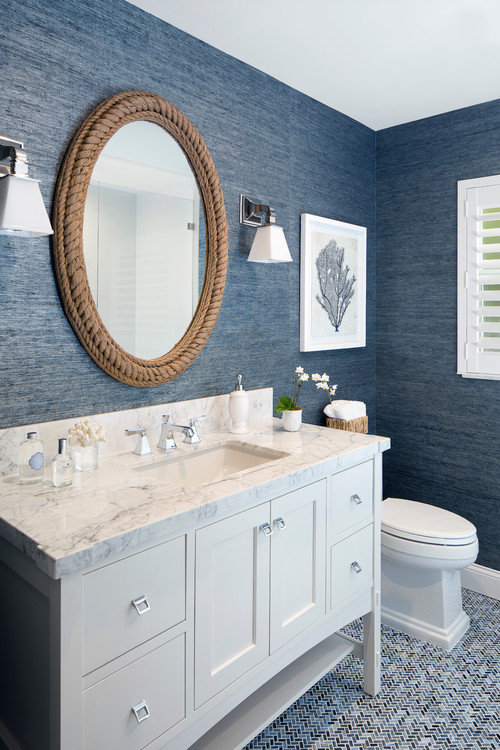 Photo by Lisa Michael Interiors – Browse powder room photos
---
Stunning Navy Bathroom With White Shiplap
Stunning design in this bathroom. The top half of the wall is painted a deep navy blue and the bottom is a clean white shiplap wall.
Another circular mirror but this time in a while shell like material. It's a nice coastal touch and looks great against the navy blue wall.
This open vanity with storage is a great option for organizing a small bathroom. The baskets under the vanity can be used to keep loose items and it's also aesthetically pleasing!
---
Whimsical Ocean Bathroom
A different kind of nautical – this whimsical bathroom isn't using navy blue and white accents like traditional nautical style. But boy is this bathroom awesome!!
Blue fish wallpaper is a standout and the wood trunk looking vanity is a centerpiece of the bathroom. A black circular mirror make you feel like you're on a ship!
---
Navy And White Bathroom
Using a few different shades of navy blue will definitely bring out a nautical feel. This navy and white bathroom uses a soft medium blue wallpaper on one of the walls and a darker navy for the vanity top. The floor tiles are also navy and white. All of the blue shades compliment each other and the rope mirror is classic for nautical style.
---
Rustic Meets Nautical Bathroom
How gorgeous is this rustic wood bathroom vanity?? I love an option like this instead of a plain white vanity. The rustic feel of the vanity really pairs well with the round mirror hanging from a rope.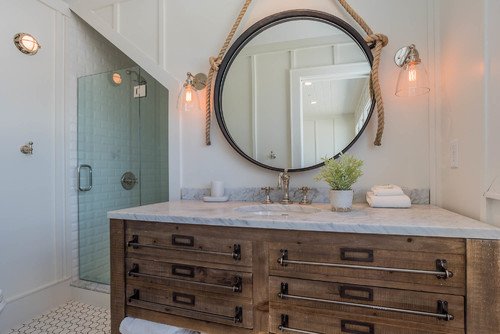 How's your nautical themed bathroom coming along? Drop us a comment below!