If you are looking for a way to bring the beach home, coastal wallpaper is the perfect solution for your next easy DIY project! There are many different styles and patterns of coastal peel and stick wallpaper designs to choose from, so you can find the perfect one for your space.
In this post, we will take a look at some of the best beachy wallpaper ideas. Whether you are looking for a fun and colorful pattern or something more subtle, there is sure to be an option that fits your style! These ideas are great for your own home, a rental, or Airbnb that you may own.
Wallpaper has been on trend for a little while now and I am loving it. I have been thinking about updating a few spaces in my home and will be using wallpaper to create an accent wall in both of my bathrooms.
My Fav Coastal Wallpaper Picks

I am still in the process of deciding which coastal wallpaper to use but here are some of my favorite ideas so far.
First, let's talk about some of the basics of wallpaper. BTW – peel and stick wallpaper is the ONLY way to go.
---
What is peel and stick wallpaper?
Peel and stick wallpaper is a type of wallpaper that does not require paste or water to install. It is made up of self-adhesive panels that are easy to apply and remove. This makes it a great option for renters or those who are hesitant to commit to wallpaper. There are many different styles and patterns of peel and stick wallpaper available.
Unlike back in the day when you has to use an adhesive of some kind to put up wallpaper, peel and stick is so easy to install and can be done in a day! Choose to leave it up forever or take it down after a year! Sometimes it's hard to commit to a funky pattern or color so peel and stick gives you the flexibility you need.
---
Where can you install peel and stick wallpaper?
Peel and stick wallpaper can be installed in any room of your home. It is a great way to add a pop of color or pattern to a space. I have seen it used in kitchens, bathrooms, bedrooms, living rooms, and even on ceilings!
The only space I would try to avoid is somewhere that may get wet. I would not recommend putting this material within the immediate area where a bathtub or shower is.
I have also seem people use wallpaper as a backsplash but I personally would prefer to use a real tile material, especially behind the sink or stovetop.
---
Is peel and stick wallpaper permanent?
No! That is the beauty of this type of wallpaper. You have more wiggle room to choose a bold color or funky pattern because if you don't like it, you can just peel it right off the wall.
---
How long does it take to install wallpaper?
Depending on the size and shape of your wall, it can take as little as an hour up to several hours or even the whole day. In general, peel and stick wallpaper is a quick project to create an accent in any room.
I will give you a personal experience of mine where peel and stick wallpaper really saved the day!
Picture this, my Airbnb property was undergoing a semi big project where we needed to open up the walls in one of the bedrooms and kitchens. I was on a tight timeline with guests checking in just a few days down the road.
My drywall installers had a miscommunication and they were not able to properly mud and finish the walls. I was in sheer panic mode and somehow got the idea that I could use some wallpaper.
This was on a Tuesday… I had guests checking in on Friday! Amazon saved the day and delivered a light gray shiplap look wallpaper.
On Wednesday I was able to get over there for a few hours and begin installing the wallpaper. To my surprise, it was easier than I thought and it really created a unique look in on of my Airbnb bedrooms.
The final result… pretty darn good for a last minute band aid fix that I might just keep for the long run!
---
How to choose the right coastal wallpaper?
When choosing coastal wallpaper, there are a few things to keep in mind. First, think about the overall style of your space. If you have a beach house that is decorated in a specific coastal style (coastal chic, nautical, etc…), you will want to choose wallpaper that fits with that theme.
There are many different coastal styles to choose from, so take your time and browse until you find the perfect one for your home.
Another thing to keep in mind when choosing coastal wallpaper is the size of the space. If you are using it to create an accent wall, make sure to choose a pattern and color that will stand out against the other walls in the room.
You don't want the wallpaper to be too busy or overwhelming.
Now let's look at some of my favorite coastal wallpaper ideas I've gathered in my search for the perfect option for me and my specific space.

---
Palm Leaf Wallpaper
I am obsessed with this palm leaf wallpaper! It is so beautiful and would be perfect for a beachy space. I love the natural color and the fact that it is subtle with the colors but still makes a statement with the pattern.
Another cool tropical leaf wallpaper I found on Etsy from ThinkNoirWallpaper – A banana leaf print in white and golf.
---
Tropical Print Wallpaper
If you are looking for a more vibrant and fun pattern, this tropical print wallpaper is perfect. It would be great for a powder room or any other bathroom space.
This tropical leaf wallpaper comes in a few colors but the navy blue one really makes a statement. You can find it on Amazon here and most of the times get it shipped super quick.
---
Serena & Lily Wallpaper
Ahhh Serena & Lily – I just love everything they carry. This "Palm Wallpaper" comes in 3 different colors and I think the navy blue and white one is my favorite.
It creates a bit of a nautical feel but is also fresh and light.
I love the way it's used in this bathroom behind the vanity mirror! It really makes the bathroom unique and stand out for sure.
---
Flamingo Wallpaper
When I think of flamingos, I immediately think of a tropical location by the beach. Flamingos are the perfect coastal accent… and can be versatile in your beachy design.
Add some flamingo coastal peel and stick wallpaper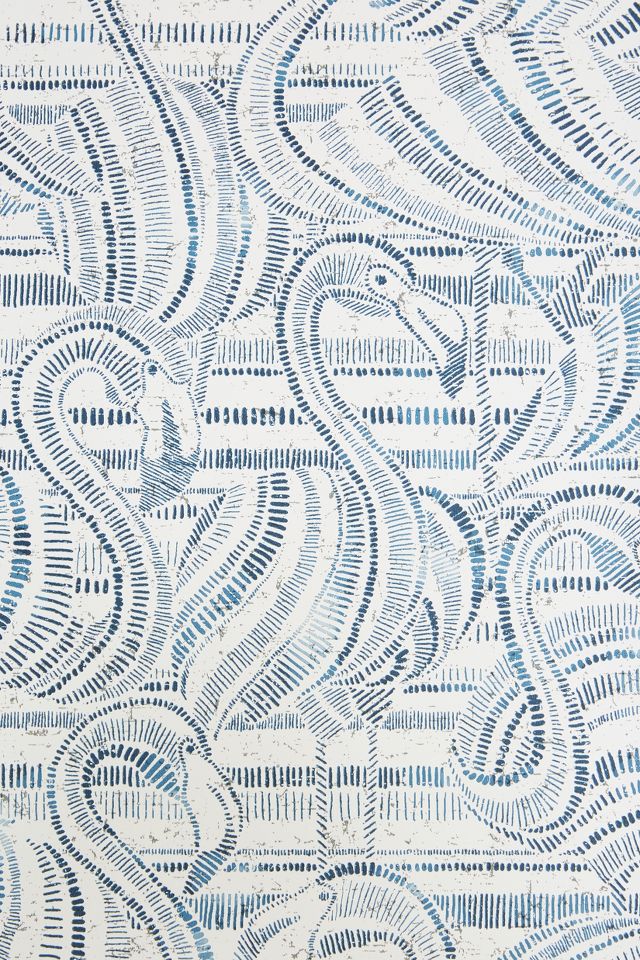 ---
Stripes Wallpaper
Stripes are classic when it comes to picking a wallpaper. They come in pretty much every different color.. so if you're going for a beach theme, find an option that comes in a shade of blue or green.
Sand & Sable on Wayfair has a great option for this here.
---
Turtle Wallpaper
Turtle wallpaper is a type of peel and stick wallpaper that will add some fun to your space. It's perfect for children's rooms or nurseries, but many adults also use it in their home.
If you're a turtle lover like me, and you can find one that fits the style of your room. I found this baby sea turtle wallpaper that I may just use for my next bathroom project! It's dainty and cute while being beachy and makes a statement.
If you want something fun and playful, choose a wallpaper with a cartoon turtle.
If you want something more realistic, find one with a photo of an actual turtle.
You can also find wallpapers that have turtles in different colors, so if you want to add a pop of color to your room, this is a great option.
---
Whale Wallpaper
This whale wallpaper is so adorable! It would be perfect for a bathroom or any other space that needs a little bit of whimsy. I love the blue and white colors and the fun pattern.
I know I just gave you one of my other favorite Serena & Lily Wallpaper design but this other whale art one is just tooooo cute.
I found Style Her Strong's IG and through Serena and Lily and I love the way they used the Melville Wallpaper.
---
Pineapple Wallpaper
Pineapple accents can be the perfect statement in your beachy style. When I was starting my first Airbnb, I learned that the pineapple is a statement of great hospitality. If you love hosting friends or family, or own your own vacation rental, using pineapple's as a decor theme is always a hit.
---
Blue Coastal Wallpaper
You don't necessarily need a beachy print or animal or object to create that coastal feel. This blue dotted wallpaper is simple and fresh.
I think this would look really nice in a bathroom next to a wall with some shiplap!!
---
I hope you enjoyed this post and found some inspiration for your own coastal wallpaper project! Let me know in the comments which one is your favorite.
If you're searching for the following ideas, we've got them in this post above!
Coastal wallpaper
Blue coastal wallpaper
Coastal peel and stick wallpaper
Coastal wallpaper design ideas
Modern coastal wallpaper
Beachy wallpaper for a kids room