Coastal Rugs are so fun to shop for. Here is my complete guide to choosing the best coastal area rugs for your beachy space. Decorating at your beach house can be overwhelming and we can all use a little inspiration. An area rug in almost every room of your house can add another layer of color and/or texture. Choose from so many different varieties – colorful coastal area rugs, coastal outdoor rugs, coastal runner rugs, coastal entryway rugs, and so many other coastal style rugs!
To me, it's a necessity in order to pull your room design together. Area rugs come in many different colors and patterns. In this post, I'm sharing some of my favorite coastal rugs and how to incorporate area rugs into your space.
Online shops for coastal rugs that I love:
This post contains affiliate links. Read our full disclosure here.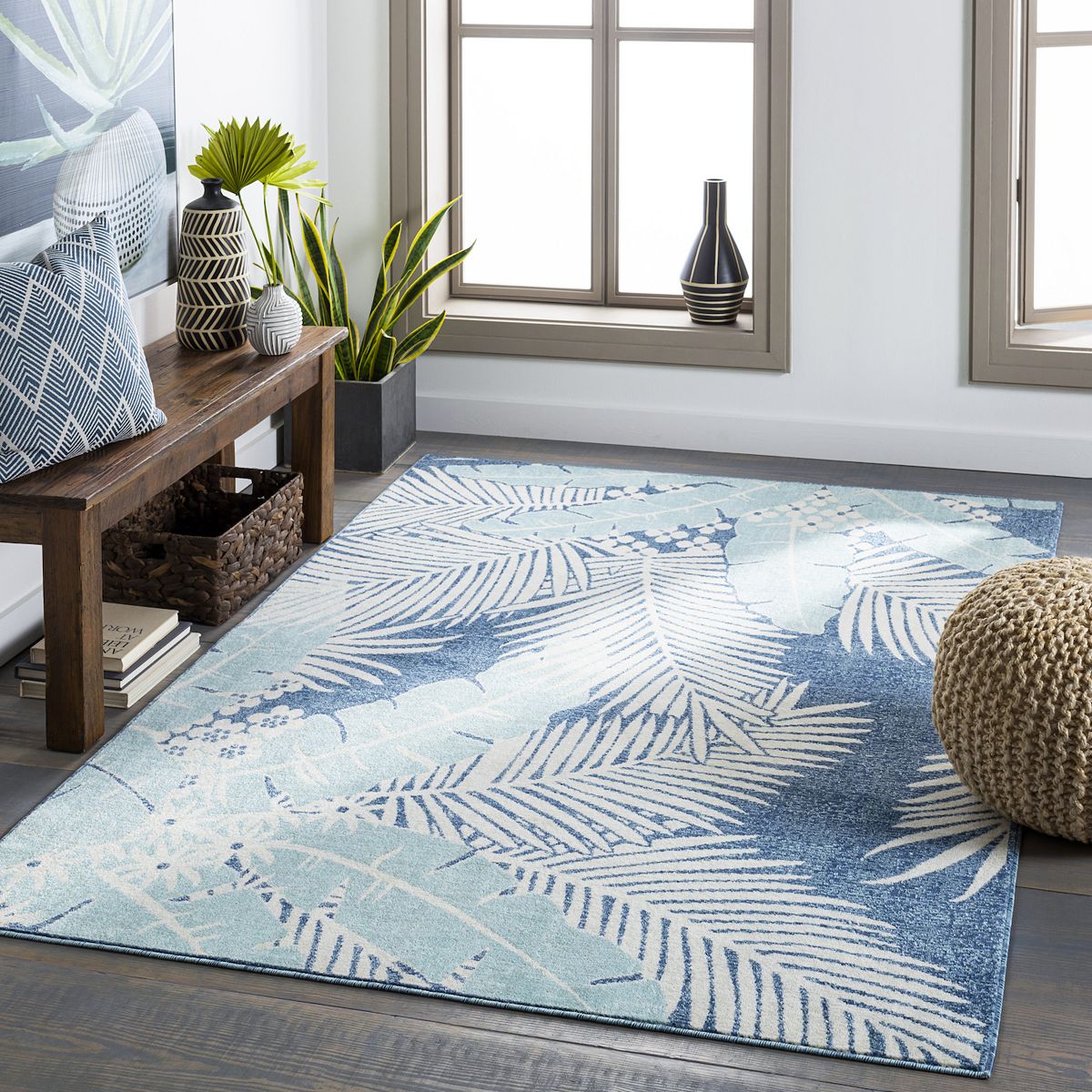 The first thing you want to do when choosing a rug for each room is determine what sizes you'll need. Most area rugs that you buy in stores or online will come in a variety of sizes. But, sometimes the sizes are limited. You don't want to fall in love with a rug and then realize it doesn't come in the size you need.
The size of your room or space and furniture placement will determine choosing a rug size!
An 8′ x 10′ rug is one of the most common sizes for a living room or dining room area rug. But as I mentioned, it really depends on your specific space.
Now, let's go through some of my favorite spaces to add area rugs and inspiration for your coastal area rugs!
---
Coastal rugs for the bedroom
What better way to capture a beach style than with turtles?? I love some good turtle decor and especially fell in love with this turtle area rug on Amazon. This rug is in one of the bedrooms at my beach bungalow Airbnb rental.
I knew we wanted to do an ocean theme in this small bedroom and the turtle rug fits perfectly! It's not tacky at all and is very neutral for the space.
Another great way to utilize an area rug in your beachy bedroom is with a solid color and pattern. Another model home that I went to in Ponte Vedra that I called Coastal Neutral Design uses beige tones and muted blues.
They used a light blue shag geometric area rug here.
---
---
Put a smaller area rug between two beds
Another way to utilize a rug in a spare bedroom would be to put the rug under or between 2 beds. If you have a guest room that has 2 twin beds this would look so cute!
Don't forget to add coastal style lamps to your beachy space.
---
Coastal area rugs for living rooms
One of my favorite purchases for my beach bungalow that I rent out on Airbnb was the area rug for the living room! It is a bold ocean blue color with a white geometric pattern.
You can go a few different ways when choosing an area rug for your living room. Depending on what color your walls and furniture are, you will want to go bold or neutral. The living room at my beach bungalow rental has light gray furniture and an off white wall color.
I decided to go neutral with the furniture and bold with my accent colors. The area rug under the coffee table is definitely a stand out accent in this living room. Here is the BEHNKE OCEAN BLUE AREA RUG on Wayfair
---
Go bold or go neutral when picking an area rug!
Another way to go is a little more neutral for an area rug. Both options can bring a coastal flare to your living room. Here is a photo of the living room in my beach cottage! (Sorry, not the best picture… more coming soon). The walls are a muted coastal blue (Watery by Sherwin Williams) and my accent furniture has some wood tones.
I decided to go a little more neutral with the area rug with an ivory and gray shag area rug. Whatever you choose for your living room, remember you can always change it! This is the second change I've made in the past ~4 years.
Since you'll be spending a lot of time in your living room, it's important to get a rug that you really like. Remember though, you can switch it out for pretty cheap.
This bold blue tropical rug lights up this space. With all the white and gray, a pop of color is just what was needed.
Buying a new area rug is a great way to change up the look without spending a ton of money!
Bring in the colors of the ocean with an abstract blue and gray modern area rug. I found this photo above by Don Pearse Photography and love the inspiration for an ocean themed living room.
---
Coastal rug ideas for a dining room
I went to a model home in Ponte Vedra, Florida in the Nocatee neighborhood and fell in love with this dining room! I created an entire post about this Coastal Chic Home. The one thing I get the most questions about is the rug in this dining room. Especially the beautiful rug under the coastal dining room chairs.
You can buy it from Serena & Lily! It's called the Ryder Denim Rug.
I love the way this designer created a beach style dining room with a driftwood table and a few muted blue colors.
---
Coastal Runner Rugs
There are a few spaces in your home that may need a runner style rug.
Outside your front door (if your space is covered)
In your kitchen
In the hallway
The entryway
Next to your bed on either side
What are the dimensions of a runner rug?
Runners can come in different sizes but one of the most common sizes are 2′ x 8′, 3′ x 10′, 2′ x 6′.
---
Inspiration for a coastal runner rug in the entryway
This colorful geometric rug may not appear "beachy" by a first look. But when you put it in an entryway like this – WOW! I love the seafoam green front door and light wood washed floors and entryway table. Everything is pretty neutral but this coastal runner rug makes the whole area pop.
---
Coastal Outdoor Rugs
One of my favorite places to add texture and color with a rug is on the patio or outdoor space. An area rug really makes your patio feel so cozy and welcoming! Especially at your beach house where you will be using your beachy outdoor spaces most of the year.
Beach bungalow covered patio with neutral beige palm area rug…
I actually got this rug on super clearance at Home Depot when I didn't even have anywhere to put it. When I started my first Airbnb, I found the perfect spot for it under the covered patio.
The only negative part about putting an area rug outdoors is that it may get wet from the rain. If you are putting a rug in an uncovered space, there are certain types of area rugs that are made to withstand the elements.
Coastal outdoor rugs that are completely waterproof may not be the same material as other patio rugs. They're more of a plastic material but these will not get all musty smelling like traditional rug materials. Try this blue and green striped waterproof outdoor rug.
If you have a covered space, you don't have to worry as much. Although my covered patio in Florida still gets wet when the wind blows! If the outdoor rug starts to smell, I use my DIY carpet powder from time to time to get the nasty musty smell out. It's great for indoors too.
Tropical outdoor space with a blue pineapple outdoor rug
---
Do you need help picking out an area rug for your beachy space? Leave a comment below!