If you're launching your first property or your 20th, us Airbnb hosts are always trying to figure out how to automate the business. There are many Airbnb automation tools you can implement to have your property run itself or close to it and be more efficient. The goal is to eliminate repetitive tasks to make our short term rental hosting lives a little easier. Consider using software solutions that have been created for this very reason in the Airbnb, VRBO, short-term rental world.
Some areas you can use technology to automate an Airbnb are things like pricing tools, automated cleaning calendars, and smart home devices. Especially if you are planning to manage a property remotely, these tools are key to being able to do so.
In this post, we're going to cover some of the key areas of starting an Airbnb business where automation using technology can really take you to the next level.
Airbnb Automation Tools For Efficiency
This post contains affiliate links. Read our full disclosure here.
---
So, what exactly is Airbnb automation?
Airbnb automation is using tools and technology to streamline repetitive tasks like guest messaging, nightly pricing, turnover service, and calendar syncing. Doing every step manually is do-able but takes a lot more time. Using Airbnb automation tools that will do a lot of this for you will free up your time for more important things!
Can Airbnb be automated?
Yes, repetitive tasks in your Airbnb business can be automated by leveraging tools for efficiency. Anything that you can put a reoccurring process around can definitely be automated.
Now, there is a caveat. There are definitely startup tasks like staging your Airbnb and ongoing items like re-stocking the essentials that cannot be fully automated. A human will always need to intervene for stuff like this but that's to be expected.
Unless this is your full-time job (even if it is!), automating anything you can will help immensely. It might sound dauting at first to set everything up but it's definitely a good idea to put in the time up front.
---
Smart Home Technology
There are a few things that smart home devices can help you with to automate your Airbnb. First, smart locks. Smart locks for vacation rentals will allow you to seamlessly provide check in information to guests.
Being able to seamlessly give guests entry to your short term rental is an important part of automating your whole process. Why? Because if you don't have these types of electronic locks, you'll wind up having to meet guests over at the home for each check in to hand over actual house keys or use an old school lock box.
Top smart lock for Airbnb: Schlage Encode Wi-Fi Deadbolt
What are some of the other smart home tools you can use at your Airbnb? Here is our list!
Potential guests will thank you if they see some of these items in your listing photos.
---
Dynamic Pricing Tools
There are several pricing tools that you can use to maximize your daily rate. These tools will use an algorithm based on similar properties in your immediate area to determine the best pricing.
A dynamic pricing tool will try to maximize your ADR (average daily rate) to get you the best return on your property.
Here are a few of the best dynamic pricing tools for your Airbnb:
Note: Airbnb does have it's own built in "Smart Pricing" feature. I would use this with a grain of salt. I personally have seen this price my first Airbnb way too low on certain occasions.
---
Automated Messaging
Guest communication is one of the most important parts of starting an Airbnb business. Bottom line is that short term rentals are ultimately in the business of 5 start hospitality. If you're not sending clear and concise information for potential, future, or current guests, they will not be happy.
That's why sending up automatic messages for communicating with guests is one of the best ways to automate your short term rental. Get the right information to each guest at the right time (automatically) and never have to worry about forgetting something.
Airbnb now has it's own automated messaging feature. There are many different scenarios when you will want to setup Airbnb message templates to send to guests during certain times. Here are just a few of them.
Automated messages are key to automating your Airbnb business. If you are listed on other platforms like VRBO, you may consider a vacation rental management software to help with this. Unfortunately right now, VRBO does not have their own built in automated messaging.
Another reason to set up automated messages for certain scenarios is that it helps keep your response rate on target!
---
Scheduling Cleaners
As a short term rental owner and/or operator, one of the most important aspects is how you handle turnover cleanings. Scheduling your cleaning team can be a pain. But finding a way to automate the process is your saving grace!
What is the best way to automate Airbnb cleaning?
The best way to automate Airbnb cleanings is by sharing your calendar with your cleaners so they automatically get new reservations on their cleaning schedule.
Turno is my go to website/app for all things cleaning tasks. I've been using them for a few years now
What else can Turno help you with?
Automatically notifying cleaners of new reservations

Integration with platforms like Airbnb and VRBO

Cleaning checklists by property
Inventory tracking to know when supplies are running low
Finding new cleaners
Issue reporting for your cleaning team
Automatic payments
---
Vacation Rental Software
There are many companies that have property management software but you want to use someone that specializes in short term rental features.
There are a few things you want to look for when choosing a vacation rental management tool. One of the top features is a channel manager. This allows you to sync your booking calendar across every listing platform that your property is on.
A unified inbox is another feature that will help you save time. If you are listing on Airbnb and VRBO, you probably know how annoying it is to flip back and forth between both platform. Having one inbox will allow you to go to one spot to receive and respond to guest messages.
Most Popular Airbnb Management Tools: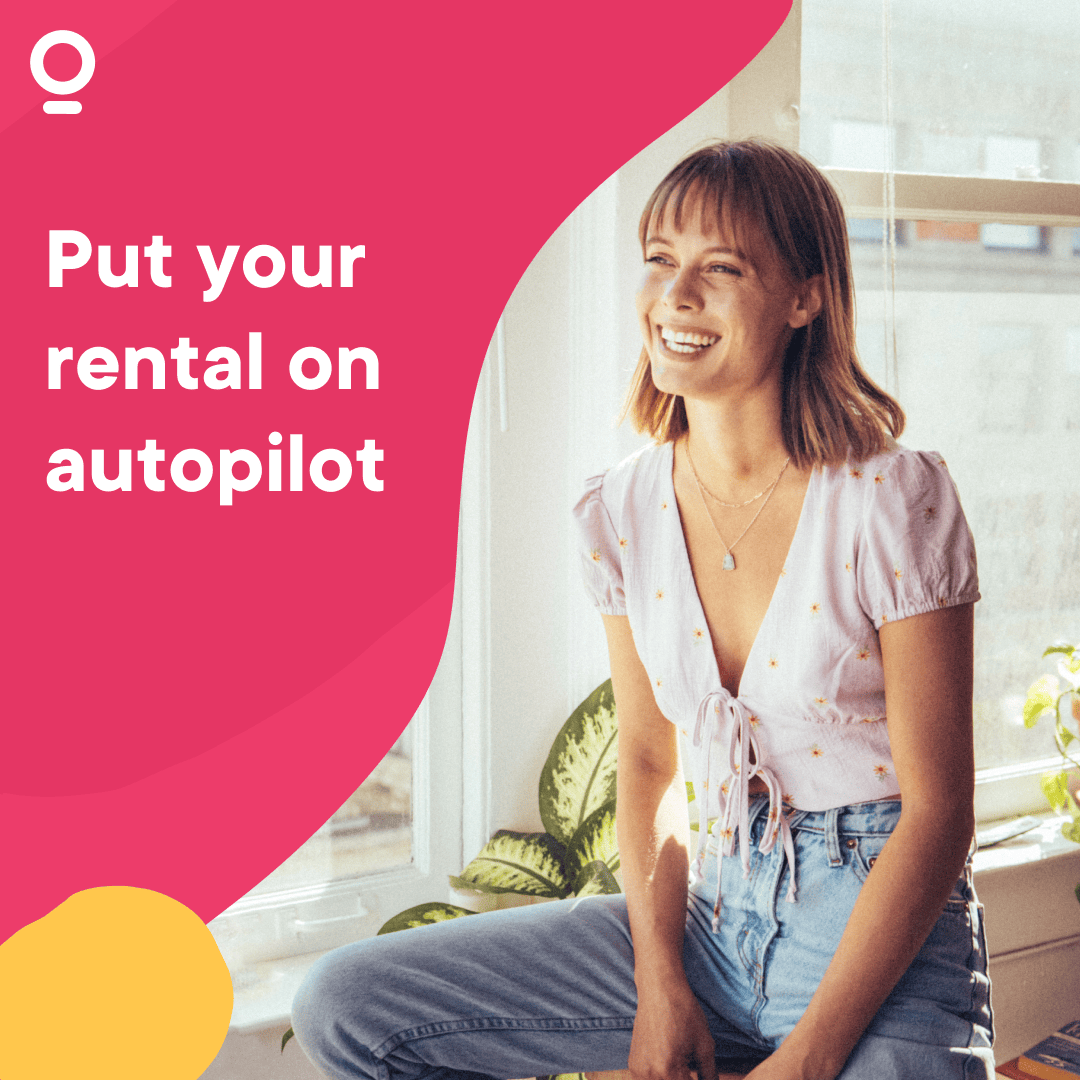 ---
Noise Monitoring
To prevent to possibility of guests checking in and trying to throw a party, you can monitor noise levels with a device like the Party Squasher Home Sensor.
---
Guest Signage
You may be thinking… how are Airbnb guest signs a form of automation? I'm adding this one to the list because they really help eliminate repetitive messages once guests have checked in!
Instead of having to respond to a message about the Wi-Fi password, post a sign in your property that has the information. For even better service, use a customized QR code Wi-Fi sign.
---
Recap Of Airbnb Automation Tools For Hosts
Technology can be a real game changer for anyone that's looking to be more hands off with their Airbnb. If you're just starting out with hosting on Airbnb, try to incorporate one of these Airbnb automation tools into your daily operation. If you're a seasoned host with multiple properties, using all of these suggestions will help you operate your business more smoothly.
---
Hey, I'm Melissa… As an Airbnb Superhost and someone who is passionate about investing in real estate, I created Beach Life Bliss to share my experiences and help short term rental operators. I have been a landlord for over 10 years and started my first Airbnb property in 2019.
Creating a space with amenities that guests love, beautifully designed rooms, and providing exceptional hospitality will make your Airbnb business thrive.
I hope that all of my Airbnb hosting resources are helpful as you navigate the challenges and rewards of being an Airbnb host!